Specialist Sheet Stainless Steel Fabrication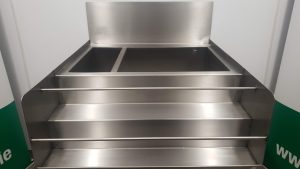 When it comes to Bespoke Manufacture, if you can think it we can most likely fabricate it, Stainless Steel is our specialty which means a bigger emphasis on the grinding and polishing of the material ensuring a non porous hygienic finish. Stainless steel is the preferred material for food service and manufacturing because of its durability, hygienic no porous surface, and the versatility of the material.
We offer a customised fabrication service which gives the client full control over the final product.
We pride ourselves on delivering products and services to our clients exact requirements
We are constantly updating our Facebook page with new photos, or you can also have a look at our Images Gallery
If you would like some further information or prices please contact us