Delvo can now provide you with Pizza Steel for your home baking, or even for your commercial enterprise. This product can be used in a standard oven or any type of oven really. We can cut to whatever size you need. Simply call or email us with sizes and we can give you a price straight away.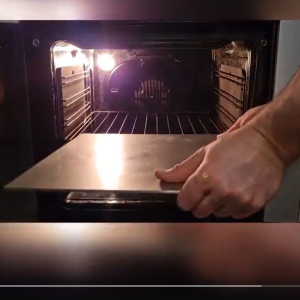 The Pizza Steel is made from 304q Grade Stainless Steel Material. This is a non porous Hygienic material. You can wash Stainless Steel using normal washing liquid or even put straight into your dishwasher.
We also use 4mm Thick Material. A plate sized 350mm x 350mm(suitable for 12″ Pizza) would weigh approx 4kg.
Stainless Steel is the least conductive alloy, this is why it is the main material being used in the manufacture of the SpaceX Starship. Because of the low conductivity it will hold temperature for longer than most other metals, it is also more than able to deal with extreme high temperatures.
Stainless Steel is extremely Hygienic. It is not a coincidence that this is the dominant material you will see in practically all commercial kitchens in the entire world.
This product is Suitable for home, or commercial, baking. You will have the tools to make Pizza as good as in any New York Pizza Joint.
Delvo will cut to any custom size you ask. When measuring for your plate please allow some clearance around your plate and oven for hot air circulation. For example, if your oven internal dimensions are 450mm x 500mm, then we would recommend a plate size 350mm x 400mm.
If you would like some further information or prices please Contact Us
This product is also available from our sister company Caterbox Ireland